Roll-Off Dumpsters That Help You Get the Job Done Right.
Renting a dumpster should be the easy part of your project, large or small.
Trust Tom Kraemer Inc. to get you what you need, when you need it.
Your project may be complicated, but getting a dumpster shouldn't be. A knowledgeable and friendly team member will listen to your needs and help match you with the right dumpster size from our vast inventory of hundreds of roll-off containers. We'll schedule a drop-off time that works for you—we may even be able to offer same-day service if you call before noon! A courteous TKI driver will safely deliver your rental dumpster when and where you need it. all you have to do is fill it and call us when you're done to schedule the your pickup.
Let TKI be your trusted partner for commercial or residential dumpster rental.
Your project is our priority! Our convenient roll-off dumpsters are the ideal solution for:
Construction & Remodeling
Acceptable & Unacceptable Material Lists by TKI Location
With hundreds of containers ranging in size from 6 to 30 cubic yards, you can rest assured there's a Tom Kraemer Inc. roll-off dumpster that meets your project's needs. Our 6-yard, 10-yard, and 12-yard dumpsters are the perfect fit for smaller household projects, like spring cleaning/decluttering or minor renovations, while our larger sizes are ideal for major construction, renovation, and cleaning projects.
TKI's current dumpster size offerings include, but are not limited to: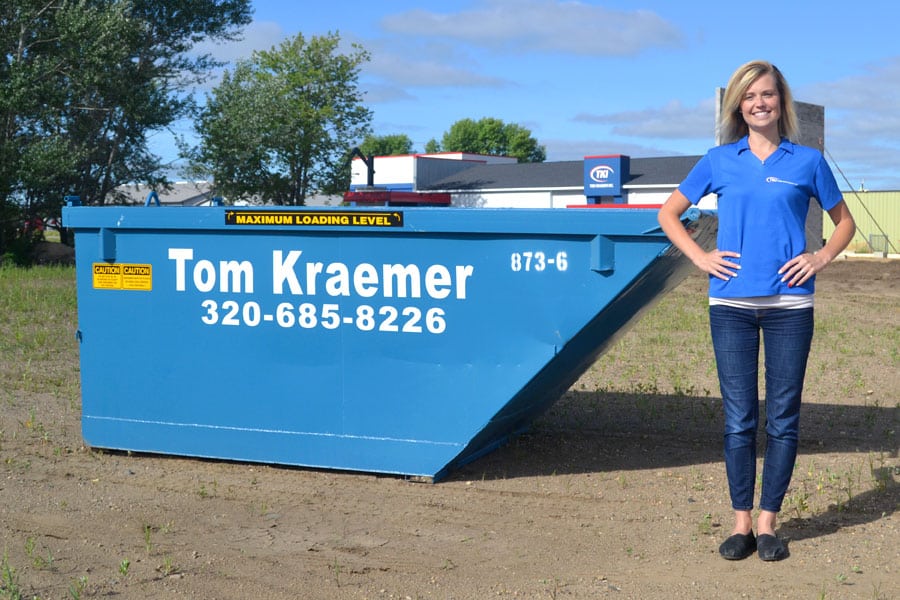 6-Yard Dumpster
5′ wide x 4′ tall x 10.5′ long
Available locations:
Cold Spring
10-Yard Dumpster
7′ wide x 3.5′ tall x 11.5′ long
Available locations:
Cold Spring
Glenwood
12-Yard Dumpster
7′ wide x 3.5′ tall x 16′ long
Available locations:
Cold Spring
Cokato
20-Yard Dumpster
7′ wide x 4′ tall x 22′ long
Available locations:
Cold Spring
Cokato
Glenwood
30-Yard Dumpster
7′ wide x 5.5′ tall x 22′ long
Available locations:
Cold Spring
Cokato
Glenwood
Not sure what size dumpster you need?
Our experienced team is more than happy to help you decide!
Dumpster Service Done Right
From your initial call to the moment we haul your dumpster away, you can trust the TKI team to provide outstanding customer service. As
a family-owned business
, we take pride in treating our customers the way we want to be treated, and in solving their problems with professionalism. You'll see the Kraemer family's commitment to customer satisfaction in everything we do, from our quality containers and transparent pricing to our friendly team and white-glove service.
Our Dumpster Service Areas
Tom Kraemer Inc. proudly delivers roll-off dumpsters throughout Central Minnesota from one of three convenient locations in Cold Spring, Glenwood and Cokato, Minnesota.
These service areas include St. Cloud, Alexandria, Annandale and the surrounding communities. More specifically, our service area includes I-94 from Ashby to Clearwater, Highway 23 from Foley to Spicer, and Highway 55 from Annandale to Elbow Lake.
Still not sure if we service your area?
Give us a call at
(320) 685-8226
and we'll let you know!
Customers Love Our Convenient Roll-off Dumpster Rental Services!
They were easy to work with, delivered as promised and their rates were very competitive.
We had a great experience with our roll off dumpsters we ordered from Tom Kramer, Inc. We ordered 20 yd dumpsters three times and received same day or next day service on delivery and pick up every time. I would highly recommend using this company. Very reliable and friendly staff.
John S.
I can't say enough about how awesome and home-town friendly TKI has been for us.
I ordered a dumpster for a kitchen remodeling project. The driver was awesome in moving things around for us to make it easier getting the door open on one end. They even worked with me fee wise, since my boys had about 4 yards in the first one already.
Thank you all so much.
TKI Customer